Babeofnight wrote:
Very nice - Unfortunally the link to download somehow dont work for me
- Any sort of Alt Link possible, please?
The link is fine. I just realized however, I can turn off auto-parsing of URLs. Which is miss-leading. Filefap looks at this as hot linking, and will not allow downloads like this. You need to copy and paste the URL into a new tab or window. This is a little bit confusing. Hopefully it's pretty clear now on my main post.
Also, I'm pretty surprised at the number of downloads this is getting. >.>
This update got 68 downloads in one day.
My second update got 58 downloads in a month.
My third got 237 downloads in almost 4 months.
I definitely want to go back and convert most of these to high res. I feel that this first time was a pretty big success, although, working in high res with one piece sets ( As in the clothing ) is a little bit more complicated for me at the moment. Most of the time I work on things like so:
This is what the master file for my heavy weave set looks like.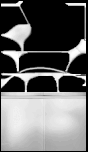 However, WoW demands that this be split into 4 pieces. I use the selection tool at the appropriate coordinates and copy and paste them into the appropriate files. TU_F (128x64), TL_F (128x32), LU_U (128x64), LL_U (128x64), etc. This process is where most of my time goes unfortunately. I do this so the set is seamless across sections. For my latest work however, I didn't have to spend a huge amount of time copying from a master file. I could spend most of my time editing the top and
panties
directly. If anyone has found a better way to manipulate textures please let me know. Something that makes the appropriate pieces from the master file would be extremely helpful to me.

I also think I'll spend more time thinking up two piece sets. I like that a two piece set works without the top or bottom while one piece sets look incomplete without their top or bottom.