May have an update soonish. This is what I've been working on: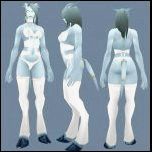 I declare this one done. I'm very happy with this one. Imo the best I've done yet...
But, for some reason, I decided that I needed a matching black set to contrast it, and I'm having a hard time thinking up a unique top that seems comparable to the white set.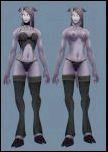 Well, I forget the point of including a
topless
shot too, but this is the rough idea for the top I'm finally happy with, but I think it's still missing something. It's too simple of a design I think, but I don't know what to add without taking away from it. I'm still open to changing the design too.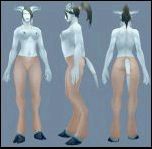 Same problem with this one, not sure what to do about the top, ripped clothes maybe (Clothes ripped symmetrically lol.)?