And bump again for the new
skirt
pack. This one has the two cheerleader outfits. I've also applied skirt textures to just about every item in the game that uses that flared-pants geoset:
Green Schoolgirl:
- Orc Hunter starting armor.
- "Aurora Armor" and "Aurora Pants" boe lvl37 green cloth.
- "Ironhide Breastplate" and "Ironhide Legguards" boe lvl50 green mail.
- "Talhide Chestpiece" and "Talhide Lined-Leggings" boe lvl69 green mail.
Blue Plaid:
- "Common Grey Shirt" and "Solliden's Trousers"*, crafted and easy world drop.
- "Daggerfen Battlevest" and "Daggerfen Stitchpants" boe lvl64 green leather.
- "Thick Scale Breastplate" and "Thick Scale Legguards" boe lvl30 green mail.
Horde Cheerleader:
- "Woven Vest" "Woven Pants" "Woven Boots" Horde-only lvl5 vendor cloth.
- "Blood Knight Breastplate" "Blood Knight Greaves" boe lvl64 green mail.
- "Der'izu Chestpiece" "Der'izu Legguards" boe lvl66 green mail.
Alliance Cheerleader:
- "Bold Yellow
Shirt
" "Night Watch Pantaloons", crafted and
quest
reward cloth.
- "Shadow Council Tunic" "Shadow Council
Pants
" boe lvl69 green cloth.
- "Clefthoof Hidemantle" "Clefthoof Britches" boe lvl66 green leather.
- "Netherstorm Chestpiece" "Netherstorm Legguards" boe lvl70 green mail.
* "Solliden's Trousers" drop nearly every time from Farmer Soliden, a rare who is almost always up in Tirisfal Glades.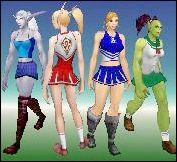 http://rapidshare.com/files/89551789/TP ... ack_v2.zip
_________________
Skins:
Links:
Last edited by on Wed Feb 06, 2008 9:52 pm, edited 1 time in total.