Small error. Initial installation, the backup file. Have up there probably forget the two N's.
Awakening I have not (? Yet), so it currently affects only the base game and the official DLC's. This I suppose I should install before I start with the local mods, right?
According ModManager, I have to actually use his all in the C: extract \ Program Files \ Dragon Age \ mods \ dazip and insert. Then he realize this, more or less automatically and I only need install it. The files, Which He does not recognize, you can override by Creator / Edit override package even add.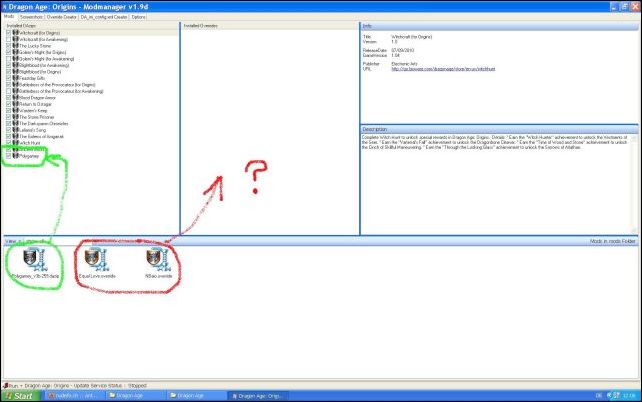 links I have tried the two installed to select additional content Ancients Boots and Polygamey. These are dazip files. Equal Love and NBaio are both overrides that can not be installed. Am I right click on it and she wants to install itself depends on the MM
Strangely, I can now take advantage of the effects of a
nude mod
's. I know not only who is active because I have only pulled Natural_bodies_all_in_one_3_0-554, but this could not install. Accordingly, I can so all the additional options (
hair
, no
hair
, muscles, choose not ....) but get the Standardkorper displayed. I also have two overrides (NBaio and Equal Love) variation in C: inserted \ Program Files \ Dragon Age \ mods \ override: \ Program Files \ Dragon Age \ mods \ dazip and in C. Sometimes as a solid rar file, once unzipped . The MM has it netweder not detected because they were in the wrong folder or in the wrong format, or else, he hung up I assume that somehow zusammenhangt with the MM, and he has verwurschtelt some files.
I just got the Befurchtung I had even after a new installation, including removal of previous track, have the same problem again, because the MM I had installed so ever again.
Edit: An addendum yet.
Before I changed the hard drive, I had already pulled a few mods. These were (otherwise I can not just print) somehow transformed by DownloadHelper, so they had a kind of automatic installation program. In my Fallout 3 mods that's the case again. They are now called, for example Wasteland_Player_-_CORE_1-02.04.2273 DownloadHelper Pulled Dragon Age mods are against everything still WinRAR files. Missing me maybe to additional integrated program?