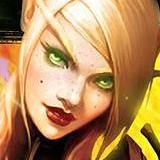 Gamer Lv:0 Exp:0%


Joined: Tue Oct 16, 2012 1:39 am
Posts: 1
I want to create my own skins for WoW characters. I have read almost every thread on this subject but nobody seems to be having the issue I am having or if they have they found a way to fix it an have not posted about it. There is a Skin made by another I an trying to mod because it has hard lines when displayed in game.

1st) I open the mpq with MPQEditor and extract the .blp.

2nd) I change the .blp to a .png using WoW Image Converter v0.5.

3rd) I edit the .png with GIMP and export it as a .png with default values. (I think I am doing something wrong in this stage.)

4th) I change the newly edited .png back into a .blp using WoW Image Converter v0.5.

5th) I open the mpq where I got the .blp from in the 1st place an replace it with the newly edited one.

6th) I open WoW to see the new file and soon as I try view it WoW crashes.

This is presented to me- ERROR #134 (0x85100086) Fatal Condition
Failed to read file Character\BloodElf\Female\BloodElfFemaleSkin00_08.blp.

Nobody else seems to be having this problem. I would really like to start making skins but until I can figure out why non of my modded skins work. Then making skins for this game is not worth my time.

I never had this problem when I made skins for other games. I don't know why we can't just have the programs Blizzard uses. When UnReal Tournament hit the shelf they packaged all that with the game.