Ok, now I can not be bothered called to open new NEN Fred, so I take the words here because I've Probs with NEM nude mod Fallout 3:
DIMONIZED TYPE3 Body Replacer and a nude mod the essence nudet Mannlicher. (For which there even have a Lummel xD)
My problem:
1 Manner
Uncensor
Mod:
All Raiders are falling aufalle genudet, but use all the other this texture is not extended Whether or not , have no hand / Korpertexturen more, but look as had the NEN LSD had an accident to estimate the shape of the clothes and the faces /
hair
.
2 Fem Nude Mod: I've installed it as written, but no lady is Nackel, but as always.
Well, I have the Starfox Chara Mod installed and these mods were listed as default. So far I am the game only once greased, but this is nothing new and the autosave was still.
This time all the mods I have installed and so far all cooperate together without problems: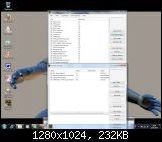 Click to Vergrouern ...
The Mannudemod is not there, that was only copy textures and meshes.
The
nude mod
I needed to make the Starfox Madel Nackel, but somehow the funzt not ... -.-
Anyone an idea?